25th March, 2016 - Posted by Gavin - Comments Off on The Alma Project
Today, Emily talks about the work she has been doing with The Alma Project:

This week I wanted to bring some focus to the great community project that Liz and I are working with throughout the SpectAct project. The Alma Project aims to improve the mental health and well-being of the inhabitants of the Edinburgh and Lothians through the use of the arts as a therapeutic tool.  It was set up as a constituted community group on 5th December 2010 and has had an eventful existence thus far. It is in the process of moving home for the 3rd time to a castle! (Craigentinny Community Centre). The project became a Scottish Charity Incorporated Organisation on 12 Nov. 2015. That has been a really interesting process for the management committee and members.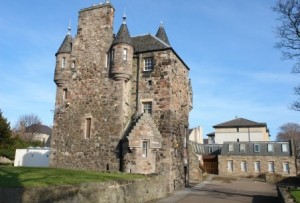 'Our groups give people a chance to feel part of a safe and supportive community, to build relationships and to have a sense of purpose and structure in their lives.  Engaging in the arts gives people a means of expression; an opportunity to safely play, explore and see yourself in a new light; a chance to learn skills and rise to challenges; an escape from worries and often a way of working through issues (whether consciously or unconsciously).  Research has shown that the creative arts and social capital all improve mental health and also have a protective factor.' The work we are doing with the drama group builds on these foundations seeking to create pieces of theatre that can foster collective advocacy for issues that are shared by the people who come to the workshops.
It is testament to the resilience and flexibility of the staff, volunteers and members that the project continues to flourish despite the upheavals and searches for a new home. The themes of change and uncertainty have become a feature of the stories and images we have been working on in our workshops and participants have been able to express their feelings about the recent move and developments in a creative way. We were also able to use the work to explore the reasons people attend our group as well as the potential barriers and use this to recruit some new members. We are excited about where the work will take us next and look forward to sharing it with you soon!