1st February, 2016 - Posted by Gavin - 1 Comment
This week Emily talks about our training workshop looking at the use of objects in theatre:
Our 8 core company members took part in a fantastic workshop this Saturday facilitated by Symon Macintyre from Vision Mechanics on using objects in theatre making. Big thank you to Symon!
We looked at taking everyday inanimate objects and transforming them into something else.  A simple roll of sellotape became a stolen bicycle, a window to the big wide world or the means to bind us all together in an elaborate web! With a combination of storytelling, simple movement and imagination, the objects came to life.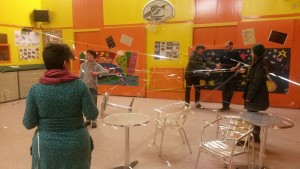 It was important for us as performers to breathe life into the objects, to believe in the transformation, so that as audience members, there was no doubt that the upside-down ukulele was a wide-eyed, open-mouthed explorer, and the tiny ingenious alien, in the knitted baby boots was truly strolling up the wall in front of us. It was magical!
It was incredible how much we got out of working with a plain roll of white lining paper- there was great silliness and surprising depth from a basic and readily available material. I look forward to using this in the future when facilitating groups.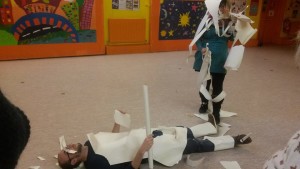 We had a lot of discussion about the meaning that objects can have when everyone recognises what they are and has a shared understanding of what they can represent. We could see that they can be used as shorthand to tell the audience something, but that we need to be wary of not falling into stereotype or cliché. This conversation will continue for some time to come.
The work we did will definitely be making its way into our upcoming devising process, will help us explore our understanding of oppression and injustice and hopefully appear in some of our performances!