Connected Lives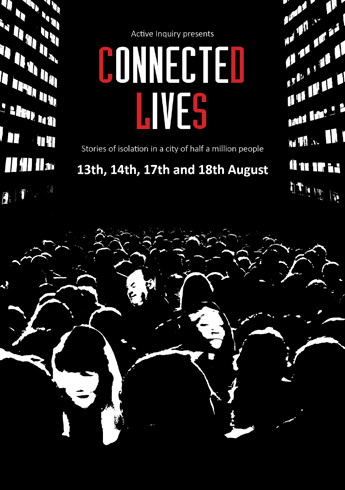 Why do people feel isolated in a city?
What causes this isolation and where can connections be found?
Funded by the Culture Service project fund from the City of Edinburgh Council, this performance brings together participants from the Active Inquiry Spect-Act Network - in partnership with the Bethany Christian Trust, The Alma Project and Shakti Women's Aid - to tell the story of Muyemba, Baz and Poppy. Why have they become isolated and where can they make connections again?
When: Monday 11th December
Time: 1.30pm
Where: The Out of the Blue Drill Hall, Dalmeny Street, Edinburgh, EH6 8RG
Cost: By Donation
Tickets can be booked online at connectedlives.eventbrite.co.uk
LegiLab
This project brings together Theatre of the Oppressed organisations working in Scotland, Poland, Italy and Slovenia to explore and develop Legislative Theatre and how it can be applied in different countries and contexts throughout Europe today. Keep checking this page for more information on how the project develops.
InterAct
This on-going project in partnership with The Thistle Foundation has now been funded by the Scottish Government for three years with the aim of rolling the programme out across Scotland. Working in schools across Edinburgh and Midlothian this project uses drama work with disabled young people to explore thoughts, emotions, concerns, opportunities and options in the transition from school.
TOgether
This project brings together Theatre of the Oppressed companies from across Europe for training and sharing of practice. We have also developed an International Play, Hotel Europa [download pdf booklet], which explores the European crisis and the difficulty of challenging neo-liberal capitalism from inside the system. After a successful run as part of the Edinburgh Fringe Festival in August 2016, the next performance of Hotel Europa will be in Barcelona in March 2017.
"Hotel Europa lays bare the truth - we're trapped in something we didn't all choose, but only together can we escape it" Broadway Baby
Read the full 4 star review here