Spect-Act Festival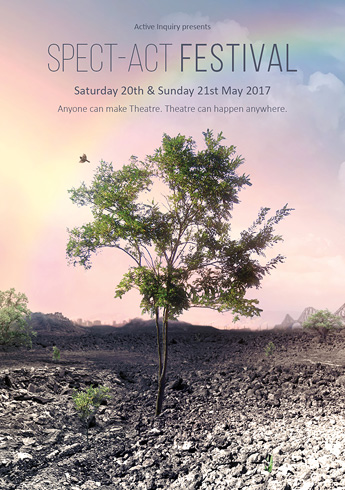 "I want the Spectator to take on the role of Actor and invade the Character and the Stage. I want them to occupy their own space and offer solutions"
Augusto Boal
Spect-Act is a network of Theatre of the Oppressed companies in Edinburgh supported by Active Inquiry. The techniques of the Theatre of the Oppressed blur the lines between actor and audience and offer a space for dialogue, solidarity and building knowledge.
We have built this strong network over the past two years, exploring issues of addiction, mental health, domestic violence and gender inequality and the themes of oppression, misuse of power and solidarity.
We want you to become part of this network for the weekend and join us in the debates and dialogues that we have started together.
Come and see performances from Active Inquiry and the Shakti, Alma and Bethany Theatre Companies. As well as some amazing theatre you can eat lunch from the Out of the Blue cafe, hear some live music, contribute to our exhibition and much more!
Programme
SATURDAY
11.00am Tea and coffee
11.30am The Bethany Theatre Company presents The Interview
Sally has an interview for her dream job. Should her past history of addiction and imprisonment affect her chances?
12.30pm Lunch and music
1.30pm Just Festival programme
We are delighted to welcome the Just Festival to talk about their unique programme of events in Edinburgh this August.
1.45pm The Shakti Theatre Company presents Dancing in Freedom
Dancing in Freedom is a powerful, moving and uplifting exploration of why gender-based violence and abuse exists and how we can become free of it, individually and collectively.
2.45pm Tea and Coffee
3.15pm The Alma Theatre Company presents Happy Birthday?
Ursula is an artist and an activist who has experienced mental health difficulties throughout her adult life. We take a creative and unusual look back at the challenges she has faced, the progress she has seen and the unexpected fights she still has to overcome.
4.15pm Drinks and Music
5.00pm Finish
SUNDAY
11am Tea, coffee and pastries
11.30pm Active Inquiry presents The Fair-Ground
Roll up roll up! Pay your money and play the game! Everyone has an equal chance in the Fair-Ground don't they? Or are some games rigged for a privileged few?
12.30pm Finish
1.15pm Acting together: Theatre of the Oppressed as active enquiry (limited places)
The aim of this workshop is to bring together practitioners from theatre, community work, critical pedagogy and research to share practices, ideas and questions about the use of Theatre of the Oppressed in the current social and political context.
Supported by CARN, CUSP and CAMINA. To register for the workshop please email a.ackland@abdn.ac.uk
WHEN: Saturday 20th and Sunday 21st May
TIME: Saturday 11am-5pm (Lunch included) Sunday 11am-12.30pm (Breakfast included)
WHERE: The Out of the Blue Drill Hall 36 Dalmeny Street Edinburgh EH6 8RG
COST: By Donation (booking essential)
For room capacity and catering reasons it is essential that you book for this event. Tickets can be booked at spectactfestival.eventbrite.co.uk where you will have the option of booking for the Saturday, Sunday or both. Please let us know if you have any diet or access requirements and we will do our best to meet these.
A creche will be available for small children and we are excited to say that we will be working with our colleagues at Strange Town Youth Theatre to offer any children aged 6-10 the opportunity to create their own piece of theatre to perform on the day! Places for the creche and the theatre workshop must be booked in advance.
For more information please contact us.
InterAct
This on-going project in partnership with The Thistle Foundation has now been funded by the Scottish Government for three years with the aim of rolling the programme out across Scotland. Working in schools across Edinburgh and Midlothian this project uses drama work with disabled young people to explore thoughts, emotions, concerns, opportunities and options in the transition from school.
TOgether
This project brings together Theatre of the Oppressed companies from across Europe for training and sharing of practice. We have also developed an International Play, Hotel Europa [download pdf booklet], which explores the European crisis and the difficulty of challenging neo-liberal capitalism from inside the system. After a successful run as part of the Edinburgh Fringe Festival in August 2016, the next performance of Hotel Europa will be in Barcelona in March 2017.
"Hotel Europa lays bare the truth - we're trapped in something we didn't all choose, but only together can we escape it" Broadway Baby
Read the full 4 star review here