Spect-Act Festival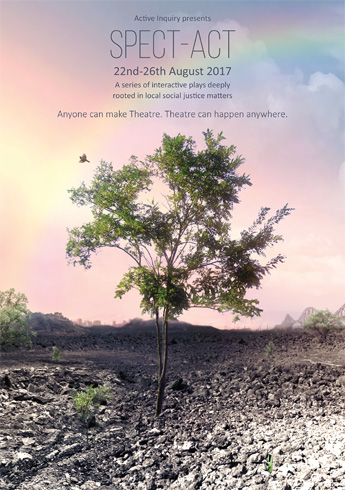 "I want the Spectator to take on the role of Actor and invade the Character and the Stage. I want them to occupy their own space and offer solutions"
Augusto Boal
Spect-Act is a network of Theatre of the Oppressed companies in Edinburgh supported by Active Inquiry. The techniques of the Theatre of the Oppressed blur the lines between actor and audience and offer a space for dialogue, solidarity and building knowledge.
We have built this strong network over the past two years, exploring issues of addiction, mental health, domestic violence and gender inequality and the themes of oppression, misuse of power and solidarity.
Come and see performances from Active Inquiry and the Shakti, Alma and Bethany Theatre Companies as part of Just Festival. Come and join the dialogues that we have started together about making the world a better place.
The Shakti Theatre Company presents
Dancing in Freedom
22 Aug | 17:30-18:30 £8 (£6)
'Dancing in Freedom' explores, questions, and challenges the reasons for domestic abuse. It is a powerful, moving and uplifting exploration of why gender-based violence and abuse exists, and how we can become free of it, individually and collectively. Devised by women with lived experience of this issue.
Click here to book tickets
Active Inquiry presents
The Fair-Ground
22, 23 Aug | 19:30-20:30 £10 (£8)
Roll up roll up! Pay your money and play the game! Everyone has an equal chance in the Fair-Ground, haven't they? Or are some games rigged for a privileged few? Helen has always believed she lives in a Just and Fair society but her experience of gender discrimination opens her eyes to the injustice around her. Will she keep playing the game or do the rules need to change?
Click here to book tickets
The Bethany Theatre Company presents
The Interview
23 Aug | 17:30-18:30 £8 (£6)
Sally has an interview for her dream job. Should her past history of addiction and imprisonment affect her chances? 'The Interview' explores the struggle faced by those in recovery to rebuild their lives in a society that has often written them off or doesn't have the resources to help.
Click here to book tickets
The Alma Theatre Company presents
Happy Birthday?
25 Aug | 17:30-18:30 £8 (£6)
Ursula is an artist and an activist who has experienced mental health difficulties throughout her adult life. She has seen mental health services and public perceptions change over the years and has actively campaigned to overcome inequality and discrimination. As she approaches a major milestone in her life, we take a creative and unusual look back at the challenges she has faced, the progress she has seen and the unexpected fights she still has to overcome.
Click here to book tickets
All performance are at St. John's Church, Princes Street, EH2 4BJ Venue 127 Tickets available at www.just-festival.org and www.edfringe.com
InterAct
This on-going project in partnership with The Thistle Foundation has now been funded by the Scottish Government for three years with the aim of rolling the programme out across Scotland. Working in schools across Edinburgh and Midlothian this project uses drama work with disabled young people to explore thoughts, emotions, concerns, opportunities and options in the transition from school.
TOgether
This project brings together Theatre of the Oppressed companies from across Europe for training and sharing of practice. We have also developed an International Play, Hotel Europa [download pdf booklet], which explores the European crisis and the difficulty of challenging neo-liberal capitalism from inside the system. After a successful run as part of the Edinburgh Fringe Festival in August 2016, the next performance of Hotel Europa will be in Barcelona in March 2017.
"Hotel Europa lays bare the truth - we're trapped in something we didn't all choose, but only together can we escape it" Broadway Baby
Read the full 4 star review here