6th May, 2014 - Posted by Gavin - Comments Off on Resilience – Starting the Devising Process
As 3rd May 2014 came and went I reflected that, in our original plan, this was to be our Legislative Theatre day at Out of the Blue – the culmination of our Resilience project! However a variety of factors meant that we had to postpone this day until 11th October. Although this was a frustrating decision to make we have all realised that it was probably a good one to make!
We have spent time since October last year emerging ourselves in such exciting-sounding things as Edinburgh Council policy, A Framework to Advance a Co-operative Capital and the Community Empowerment Bill so it was a relief to finally start some practical devising work!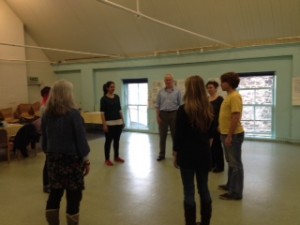 Liz, Suzanne, Pinar, Karen, Emily, Nick and myself (Gavin) all came together for a weekend on 26th and 27th April. We were lucky in that we came armed with research that we had all carried out with help from Ruthless Research, and that we had a clear aim: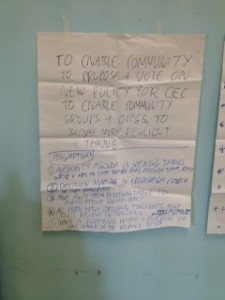 "To Enable the Community to Propose and Vote on New Policy for City of Edinburgh Council to Enable Community groups and Organisations to become more Resilient and Thrive"
This aim had come straight from our Divided We Fall? event last May and so we felt confident that we had a mandate to take this work forward.
The weekend enabled us to practically and aesthetically investigate questions that had arisen from the research. With a mountain of props and instruments at our disposal we used Word, Image and Rhythm to explore and play:
Day 1 – Aesthetic responses to research – Suzanne and Emily
We were genuinely impressed by lots of the language of community empowerment BUT realised that this was not being translated into language on the ground for many communities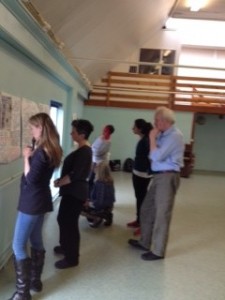 We are exicited to be creating a piece of Legislative Theatre which will explore how Edinburgh Council can help community groups, organistaions and members to ensure that the language of empowerment can be turned into reality! Not an easy task but one that we are relishing! Already looking forward to our next weekend of devising at the end of May!