15th December, 2016 - Posted by Gavin - Comments Off on Power of Performance
Today, Pinar shares her experiences of working with Shakti Women's Aid and exploring domestic violence:
At times I feel hopeless, sad and angry when reading cases and statistics about domestic abuse. It is said that 'domestic abuse leads to on average two women being murdered each week and 30 men per year'. There are many cases around the world which women and people face physical and mental abuse from their partners, ex-partners, families and many more.
It doesn't finish here though, women flee their homeland to run away from violence and to start a new life. Then, mental abuse from the immigration system starts; trying to evidence your case, trying to survive in a new country without knowing laws and find a safe place.
While working with Shakti Women's Aid Drama Group we have been able to share different stories and experiences. We recently performed at Museum of Edinburgh as part of an exhibition to celebrate 30th anniversary of Shakti in Edinburgh- Unheard Story. It was amazing to see everyone joining together to dance for freedom!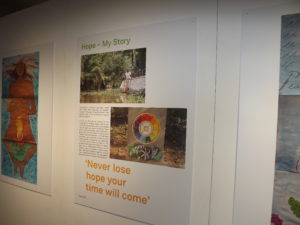 We share and hear each other's experience. We then come together to rehearse for the future to shape our destiny through performing our hopes. And we will perform and learn from each other!