15th November, 2016 - Posted by Gavin - Comments Off on Alma Drama Company – working in partnership with Age in Mind
Today on our blog, Emily talks about the exciting partnership between The Alma Drama company and Age in Mind:
The Alma Drama Company have had a really interesting month or so, getting to know activists with Age in Mind, and working in partnership to produce a piece of Forum Theatre.
Both groups have a shared interest in the themes of loneliness and of ageing and the ways in which these issues come with their own significant impacts when a person is experiencing mental ill-health.
Part of our research has included compiling a short survey for people aged 50 and over, who have lived experience of mental health problems. You can participate in this survey here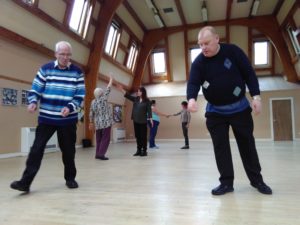 We are beginning to see a story emerge that will follow a person with on-going mental health needs, as they travel through their life. This person has been at the forefront of campaigns for equality in mental health care provision, and in fights against institutional discrimination throughout the decades. They have seen some major gains and movements forward, but they also see that there are more barriers to face. Some of the discriminatory practices they have been through carry lasting impacts and there is a cumulative effect on their everyday life.
In the present day we see the person dealing with the age-cap of 65, which means they can no longer access the mental health services they have been using for many years, and in some cases fought to shape. Instead they will be referred to Older People's mental health services, where resources are less and where the speciality is often towards the treatment of dementia.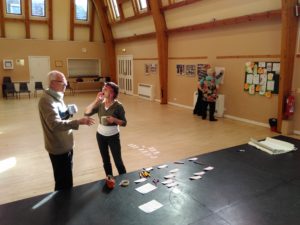 Age in Mind have secured the sponsorship of Jackie Baillie, Labour MSP for Dumbarton and are planning to hold a reception in the Scottish Parliament on Thursday 26th January from 1pm – 2:15. This will include a performance of work by the Alma Drama Company! It will also be preceded by a march or rally highlighting the issues we are exploring.
We are looking forward to this work developing further and to being part of this on-going campaign!