24th October, 2016 - Posted by Gavin - Comments Off on How does change happen?
Today on our blog, Suzanne talks about her recent theatrical experiences and how change can happen in the world:
Never doubt that a small group of thoughtful, committed citizens can change the world; indeed, it is the only thing that ever has.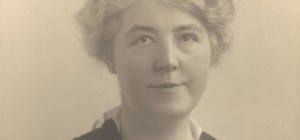 I was recently in a play that two friends and I devised and co created called Chrystal and the General about two Scottish women, Chrystal Macmillan and Flora Drummond, who were prominent in the struggle to get women the vote. In it we explored different ways of promoting radical change in the world.
We ended the piece with that quote.
So in this blog I am just going to mull over ideas about how change happens. As an activist this has been something I have thought about all my life!
In our play we presented the different ways Flora Drummond and Chrystal Macmillan went about pursuing the same goal of Women's Suffrage.
Chrystal was a suffragist who believed change came about through a gradual and persistent struggle within the law. Flora was a suffragette, prepared to break the law and go to prison for the cause.
These different ways of promoting radical change still underpin present day struggles for a better world.
The Mead quote speaks of change happening from the ground up, that change comes from the people, from the grassroots, whether within or outwith the law.
And the 'thoughtful and committed' could mean non violent.
At Greenham Common we took action against nuclear weapons – lying in the road, climbing over and cutting fences – that broke the  law but which were always peaceful. The Suffragettes took radical action but pledged to only harm property, never people.
Gandhi and his followers defeated the British Empire through non violent action.
The Civil Rights Movement and the Women's Liberation Movement were grassroots movements that have achieved deep change that is still ongoing. The struggle continues.
In Theatre of the Oppressed we examine and explore oppression, why and how it occurs and how it is maintained. We work from the ground up, asking questions together to confront and transform oppression. And we rehearse those ways of challenging power over, to reclaim our power, power within, individually and collectively.
In these ways as Theatre of the Oppressed practitioners we can contribute to the global shift in consciousness to a socially just and peaceful world.