3rd May, 2016 - Posted by Gavin - Comments Off on Justice and Mortality
The
Active Inquiry Company
recently spent 4 days devising our new play – 
The Fair-Ground
. In it we are exploring the concept of Justice. In an earlier group of devising days we also looked at Space. So we have been reflecting together,  with our groups and the wider community on these vast subjects.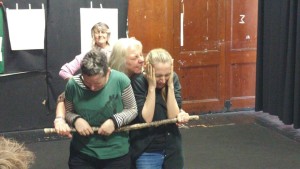 Three stories stand out for me in relation to Justice and Mortality.
Hillsborough.It has taken 27 years of perseverance,and determination and life energy but finally the friends and relations of the 96 people who died at Hillsborough have achieved justice. As one of the women said,'the people of Liverpool took on the might of the Establishment,and we have won.'
The account in the Guardian Society 9th March of the woman who was beaten for 5 hours, almost to death. Her partner got 2 years. Also in the papers that day was the story of a jewellery theft.The men involved got 7 years. So property that is made to adorn a woman's body is given higher value than a woman's body and the woman herself.
Last week up to 500 children,women and men drowned in the Mediterranean.There was one short report on this. No images, no analysis, no holding anyone to account.
Also in that week 64 people died in a large bomb attack in Kabul, 340 were wounded. Again,the most  minimal coverage. Some lives seem to matter more than others in life and in death.
Our system is inherently unjust. Global patriarchal capitalism has inequality and therefore injustice built into its walls. But people together can face up to and scale and overcome these walls. As the people of Liverpool have just shown us.