26th January, 2015 - Posted by Gavin - Comments Off on Resilience Performance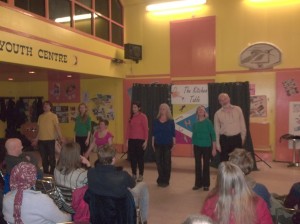 We were excited to perform our latest piece of Forum Theatre, Resilience, last Friday (23rd January) as part of the Pride in our Public Services campaign by the Edinburgh Anti-Cuts Alliance against some of the proposed cuts to Edinburgh Council's budget for 2015/16. The Council will make its final budget decisions on 12th February where it will be looking to cut £22 million from its annual budget.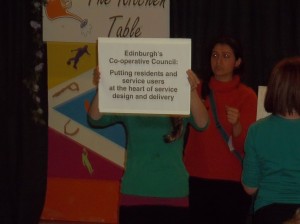 Over 60 people crammed into Pilmeny Youth Centre on a cold and wet evening to watch the Play. A lucky few got chairs but many had to settle for mats on the floor! The room was filled with energy and no shortage of people wanting to stop the play and come up to make interventions!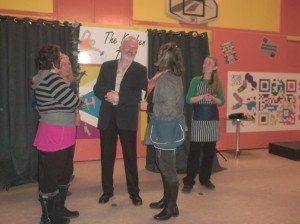 There were many interesting and varied suggestions including: finding ways to make sure Councillors put pressure on Council officials to ensure they treat community organisations fairly to staging sit-ins and affective ways to build campaigns.
At the end of the performance Fiona from Edinburgh East Save Our Services and Brian from Unite both spoke to the group about the proposed cuts. Fiona pleaded with everyone to write to their Councillor or make a deputation and Brian filled us in on what the cuts might mean in practice. He also told us of the Council's debt to HMRC and how the Council would be paying back £56 million to the HMRC in the next financial year!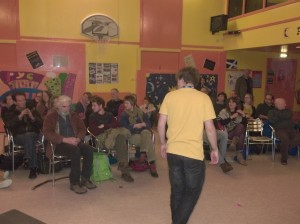 Everyone left the space with lots of energy, some new knowledge and an intention to challenge the Council on their next round of cuts.
The Edinburgh Anti-Cuts Alliance encourage everyone to attend a demonstration at the Council on 12th February from 8.30-10am.