23rd August, 2011 - Posted by Gavin - 1 Comment
Following on from last year's workshop at The Festival of Politics at the Scottish Parliament, we recently ran a News Group workshop as part of UNISON's anti-cuts festival – MOBILISE!
watch?v=AHu8MhDHIj8&feature=player_embedded
This was the first year for this new addition to Edinburgh's Festivals and consisted of a mixture of workshops, debates and performances all aimed at supporting campaigners against the government's cuts.
This seemed like an obvious place for Active Inquiry so we were excited to run a workshop as part of the Festival.
After an energetic few warm-up games it was time to choose the news story that we would be working on. The group came up with a number of stories including the privatisation of council services and the death of Amy Winehouse but the story we voted to work on was the riots in England and the debate about whether police should be given more powers to deal with unrest on our streets.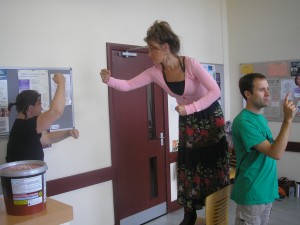 We spent a lot of the session exploring the relationship between rioters, police and politicians and came up with two different images. The first image above shows a very close relationship between the police and the politician with the politician being the public face that supports police brutality. In the second image below we see both the rioter and the politician caught between two "bookends" of police who are controlling them both.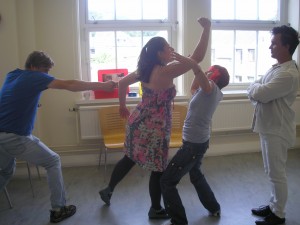 There were many interesting debates and conversations around who the rioters were and there reasons for rioting. There was a huge concern that a Conservative government may well give more powers to police who could use these to crack down on political protest.
As with all News Group sessions we ended with thinking about what Jo(an imaginary News group member) could do to actively engage in some way with this news story. The suggestions from the group were:
Jo could go and speak to people involved in riots to find out why.
Do some legal research about protest rights and pass on this information to others.
Check out facebook groups to understand who the people were involved in the riots.
Find a way to teach people how to be an active member of society in a productive way.
Write a Play to reflect on the experience.
Go for a walk around areas effected by the riots to see how people live and the damage caused.
Please feel free to leave a comment about how you have taken one of these or another action point forward.
After News Group ended we were lucky enough to see a performance from Banner Theatre's amazing 1st of May band. We were all very inspired and even up dancing (some with their own percussion instruments!)
I was lucky enough to finish the day by taking part in a debate about the use of the arts in union and community campaigns and I hope that Active Inquiry will be able to play a useful role in the mounting campaigns against the current government's cuts.