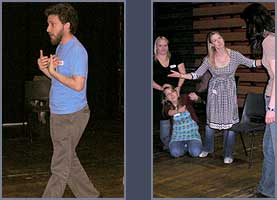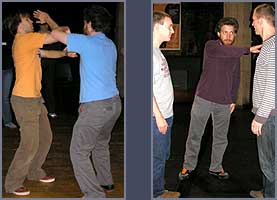 Forum Theatre training with Julian Boal September 2008
ACTive INquiry seeks to be an advocate for the work of Augusto Boal and the Theatre of the Oppressed in Scotland by offering various training workshops for artists and other professionals. Like all our practice, we seek to keep our training at the cutting edge of the work.
Please keep checking this page for information on upcoming training courses.
Devising Forum Theatre
Friday 24th and Saturday 25th November 2017
This popular 2-day workshop will explore devising a piece of Forum Theatre from scratch with a group. It will explore identifying and tracking oppressions, using image as a starting point for Forum, the structure of Forum Theatre, characterisation and rehearsal techniques.
The Actor and the Joker
Friday 15th and Saturday 16th December 2017
This 2-day workshop will explore the roles of the Actor and the Joker (facilitator) in a piece of Forum Theatre. How should the Actor prepare for their role and what should their relationship be with the character they are portraying? How should the Joker encourage interventions? What questions should they ask? And, crucially, how can the Actor and Joker work together to ensure a successful experience for the audience?
No previous experience is required for these workshops; they are aimed at those who are interested in the possibilities of the Theatre of the Oppressed including teachers, drama workers, youth workers, actors, theatre practitioners, activists, researchers, community educators, therapists and social workers.
Workshop details:
Both workshops will be held at:
Quaker Meeting House, 7 Victoria Terrace, Edinburgh, EH1 2JL
2pm-6pm (Friday), 10am-5pm (Saturday)
Cost:
One Workshop
£100 (full rate), £50 (concessions- including freelance artists)
Both Workshops
£180 (full rate), £80 (concessions- including freelance artists)

Please contact us if you would like to take part in the training but cannot afford the concession fee.
Download a flyer
Download a booking form
Training Courses Offered:
Are you a school, arts organisation, charity, community or voluntary group? We can tailor a training course for your needs. Our unique courses include:
Introduction to Boal and the Theatre of the Oppressed
Introduction to Forum Theatre
Devising Forum Theatre
Introduction to the Rainbow of Desire
The Art of the Joker
The Rehearsal Techniques of Augusto Boal
How to be a good Forum Actor
Please contact us to discuss your specific training needs.
Don't see anything here that interests you? Then contact us to make a suggestion!